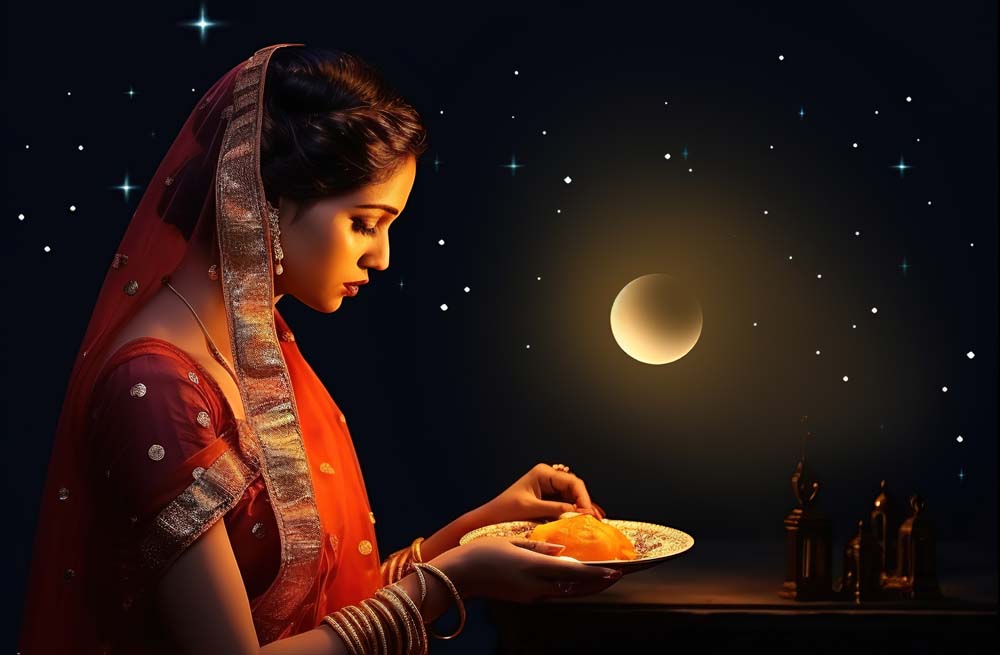 Karwa Chauth is a beautiful Hindu festival that celebrates the bond of love and devotion between a husband and wife. On this day, married women fast from sunrise to moonrise for the well-being and longevity of their husbands. In return, husbands shower their wives with love and affection, often accompanied by thoughtful gifts. If you're looking for the perfect Karwa Chauth gift for your wife or husband, you've come to the right place! In this blog, we'll explore some romantic Karva Chauth gift ideas for your beloved spouse.
Best Karva Chauth Gift Ideas 2023
Traditional Jewelry for Her
One of the most cherished gifts for Karwa Chauth is traditional jewelry. Consider gifting your wife a stunning set of bangles, a necklace, or even a pair of elegant earrings. These timeless pieces not only enhance her beauty but also symbolize your enduring love.
Personalized Keepsakes
Create a personalized gift that will tug at her heartstrings. A custom-made photo album or a heartfelt letter expressing your love and appreciation can be incredibly meaningful. You could also choose personalized jewelry with both your names or initials engraved on it.
Spa and Relaxation Packages
After a day of fasting, your wife deserves some pampering. Treat her to a spa day or a relaxation package at a luxury spa. This thoughtful gesture will help her unwind and rejuvenate, showing your consideration for her well-being.
Surprise your wife with a designer saree or outfit that she can wear for the Karwa Chauth puja. Choose a color and style that you know she'll love, and watch her eyes light up when she sees it.
Sometimes, the most meaningful gifts are the ones that come from the heart. Cook a delicious meal for your wife, or even better, prepare her favorite dish. Share this intimate moment as you break her fast together.
Karwa Chauth isn't just about wives fasting for their husbands; husbands can also show their love and appreciation. Consider gifting your husband a stylish wristwatch that he can wear every day, reminding him of your love.
Grooming and Wellness Kit
Men appreciate grooming and wellness products too. Put together a kit with his favorite grooming essentials, such as cologne, shaving kit, or skincare products. This gift shows you care about his well-being and appearance.
Plan a surprise weekend getaway for your spouse. Choose a romantic destination or a cozy cabin in the mountains. It's a perfect opportunity to spend quality time together and strengthen your bond.
Leave small handwritten love notes for each other throughout the day. These sweet messages can be hidden in unexpected places, creating a trail of affectionate surprises.
Name a Star After Your Love
Symbolize your eternal love by naming a star after your spouse. There are various online services that allow you to dedicate a star to your loved one, and you'll receive a certificate and star map as proof.
Karwa Chauth is a day to celebrate the enduring love between a husband and wife. Choosing the perfect gift is a wonderful way to express your affection and appreciation for your spouse's sacrifices and devotion. Whether it's traditional jewelry, personalized keepsakes, or a romantic getaway, the key is to select a gift that resonates with your partner's preferences and makes them feel cherished. So, go ahead and make this Karwa Chauth memorable with a thoughtful and romantic gift for your beloved wife or husband. Happy Karwa Chauth!