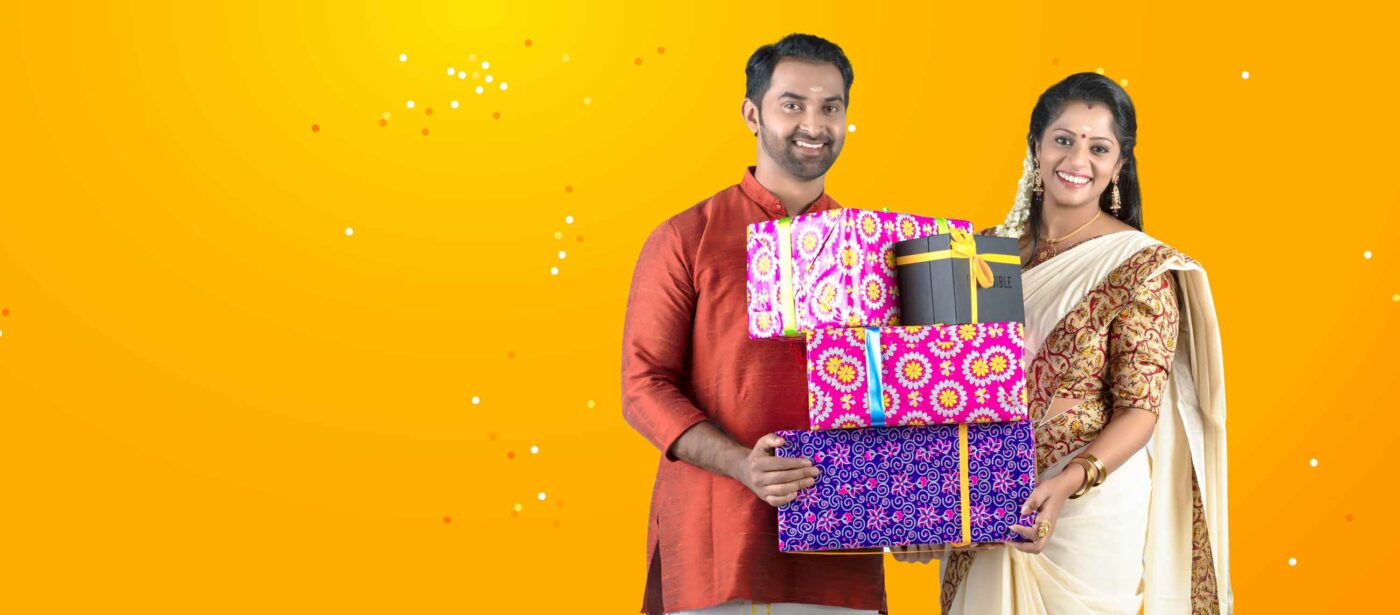 Kerala is known for its rich culture, and what if we say we have something that encloses the true essence of Kerala culture?! Yup, we have launched a range of Kerala-style traditional gifts and hampers for every occasion. Our gifting experts have been inspired by the color culture and tradition of Kerala and have created lots of gifts for you. The most well-in-demand gifts include Kerala spices, Kerala souvenirs, Kerala snacks, and Kerala traditional dresses.
We have launched a beautiful wooden Kerala spice box with authentic Kerala-grown spices like black pepper, cinnamon, cloves, cardamoms, nutmeg, bay leaves, star anise, fennel, and cumin. Get your traditional spice box online. We also have Kerala special sweets for you. Traditional delicacies like ladoo, jilabi, Aluva, Mysore pak, banana candies, and more have been prepared by traditional recipes. We also have Kerala special snacks like banana chips, jackfruit chips, sweet potato chips, Achappam kuzhalappam and much more for you. Get your Kerala famous sweet hamper now!
Ecah district, be it Thrissur or Thiruvananthapuram, Kozhikode or Palakkad, Ernakulam or Alappuzha, each has its own traditional Kerala gift items and our Kerala special gift items has included all of them. We have a great collection of Kerala traditional dresses, Kerala traditional saree, including Kerala wedding sarees. We also have traditionally crafted Kerala housewarming gift hampers. 

Onam, Vishu, Christmas, Ramadan, Kerala Piravi, and other holidays are among the major celebrations of Kerala. For each occasion, we have put together lovely baskets that are brimming with Kerala culture. As a remembrance of the numerous adventures we've travelled, souvenirs serve as mementos. 

They represent the various places and times in our lives that they represent. Visitors to Kerala have always been particularly interested in buying handloom and handicraft products as well as a variety of natural goods. Stop searching for "souvenir shops near me" and visit our website instead. We are the top online store of souvenirs.
Whatever the occasion, if you want Kerala's traditional gifts and hampers with the authenticity of Kerala culture, we have it ready for you. We also have Kerala traditional corporate gifts and hampers. Just get on our website and select your hampers or make your own hampers. We have numerous delivery options for you that you can select according to your convenience and urgency. We also have scheduled delivery where you can schedule your delivery date. Place your order at amazing discounts now!