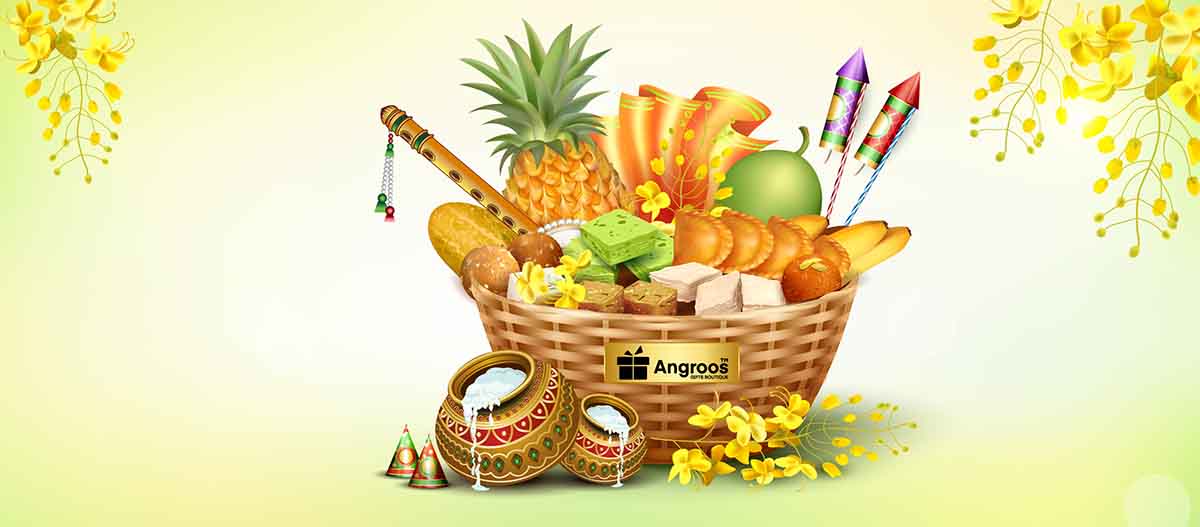 All over Kerala, we all are early waiting for our Malayalam New Year this year. Vishu Festival is the auspicious occasion where we unite with all our beloved ones and celebrate the new beginnings. It's an occasion of hope, prayers and blessings for all of us. This Vishu lets us add colors to our celebration with Angroos customized gift hampers.  
Add charm to your Vishu kani with our special gifts. We have launched luxurious and alluring vishu kani items this year. All our gift hampers can be fully customized and you can personalize almost all of the gift items you are planning to include in your hamper. If you want any brand specific presents to be added into your hamper, you can directly get in touch with our gifting experts in our 'Pick what you want' section. 
Select from the best collection of Vishu kani decorations we have designed specifically for you. A traditional Vishu kani is something that adds beauty to your Vishu, thus making the entire day lovely. So indeed, it has to be enriched with Angroos Vishu special traditional vishu kani decoration. 
Vishu 2022 will be the most exquisite and luxurious celebration if you choose to celebrate it with us. And for your kaineetam, get your little fellows Angroos personalized Vishu gift. Vishu gift items are thoughtfully designed for suiting the traditional Vishu theme. All our Vishu gifts  hamper not only encloses Vishu gifts but also the true essence of Kerala tradition. 
And as you might already know, all our orders can be scheduled for delivery. While placing the order, you can choose your preferred delivery date and we will be delivering accordingly. So why wait any longer? Get your Vishu gift set and Vishu gift basket now!