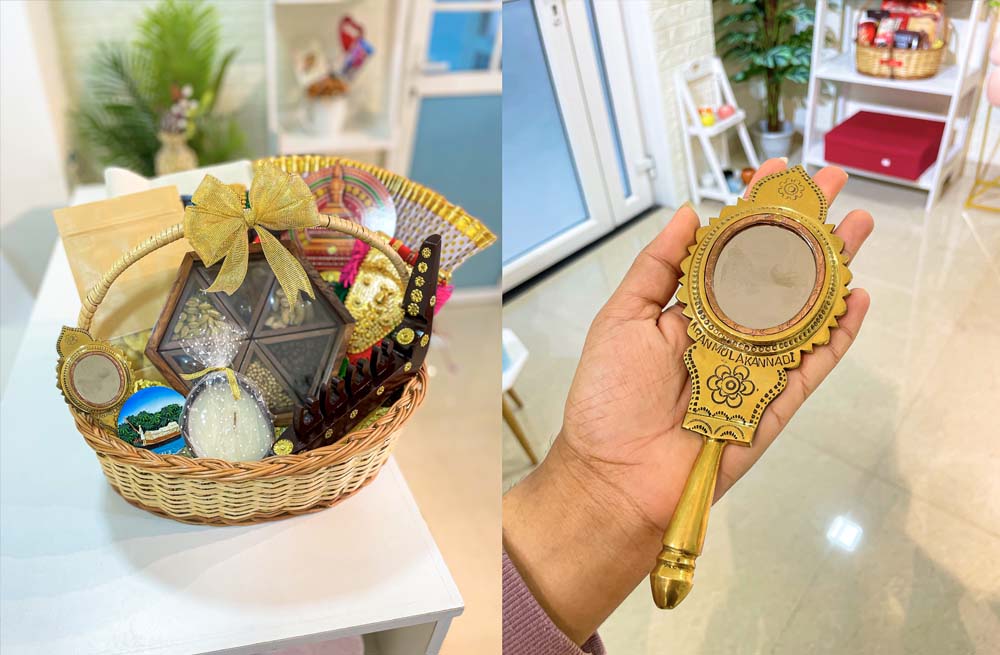 Introduction:
Onam, the vibrant and joyous harvest festival of Kerala, is a time to celebrate togetherness, culture, and tradition. As the auspicious occasion approaches, it's time to delve into the world of Onam gifts, hampers, sarees, mundus, snacks, and everything that makes this festival truly special. At Angroos, we take immense pride in curating a delightful range of Onam offerings that capture the spirit and essence of this joyous celebration. Join us as we embark on a journey through the highlights of Onam and explore the wonderful world of Onam gifting.
Onam is a time to exchange gifts and express heartfelt emotions. At Angroos, we bring you a thoughtfully curated collection of Onam gifts that blend tradition with modernity. From exquisite flower arrangements and handicrafts to personalized gift sets, each item is carefully chosen to convey warmth, love, and blessings to your loved ones.
2. Onam Gift Hampers: An Abundance of Joy
Enhance your gifting experience with our meticulously crafted Onam gift hampers. These beautifully presented assortments combine an array of traditional and contemporary items, including sweets, spices, snacks, and more. With a touch of elegance and a dash of Kerala's rich cultural heritage, our gift hampers are sure to bring delight to the festivities.
3. Onam Sarees: Unveiling the Elegance of Kerala
The traditional attire of Kerala, the Kasavu saree, holds a special place during Onam. Our collection of Onam sarees beautifully showcases the rich and graceful heritage of Kerala's weaves. Adorned with intricate golden borders and woven with the finest quality cotton, these sarees are a symbol of elegance and timeless beauty.
4. Onam Mundu: Graceful Drapes for Men
For men, the traditional Mundu is an indispensable part of Onam festivities. Angroos offers an exquisite selection of Onam Mundus crafted with meticulous attention to detail. With their pristine white fabric and golden borders, these garments add a touch of sophistication and grace to the celebrations.
5. Onam Snacks: Tempting Your Taste Buds
No Onam celebration is complete without indulging in a delightful array of snacks and delicacies. At Angroos, we bring you an assortment of authentic Kerala snacks that will tantalize your taste buds. From the crispy banana chips and delicious jackfruit chips to the mouth-watering unniyappam and palada payasam, our snacks are a true reflection of Kerala's culinary traditions.
6. Kerala's Cultural Tapestry: Exploring the Richness
Onam is not just about gifts and delicacies; it is a celebration of Kerala's vibrant culture and heritage. Immerse yourself in the beauty of Kerala's classical dance forms, such as Kathakali and Mohiniyattam. Experience the pulsating beats of traditional music, including the mesmerizing melodies of the Chenda and the enchanting tunes of the flute. Onam is an opportunity to witness the richness of Kerala's cultural tapestry firsthand.
Conclusion: As Onam approaches, let Angroos be your trusted companion in capturing the true essence of this joyous festival. From the finest Onam gifts and hampers to elegant sarees, traditional Mundus, delectable snacks, and a glimpse into Kerala's cultural
tapestry, we at Angroos strive to provide you with an unforgettable Onam experience. Our carefully curated collection of Onam offerings is designed to bring joy, happiness, and a sense of tradition to your celebrations.
Whether you're looking for the perfect gift to express your love and appreciation, or seeking to adorn yourself in the graceful attire of Kerala, Angroos has you covered. Our Onam gifts, hampers, sarees, mundus, and snacks are meticulously selected to capture the essence of this vibrant festival.
At Angroos, we understand the importance of preserving and cherishing cultural heritage. Through our offerings, we aim to showcase the rich traditions, artistry, and flavors of Kerala, allowing you to embrace the spirit of Onam with authenticity and enthusiasm.
As you gather with loved ones, indulge in mouth-watering delicacies, and immerse yourself in the colorful festivities, let Angroos be your companion on this remarkable journey. We take pride in providing you with high-quality products that not only celebrate Onam but also support local artisans and craftsmen, ensuring the preservation of Kerala's cultural legacy.
So, as the festive season approaches, explore the world of Onam gifts, hampers, sarees, mundus, snacks, and more at Angroos. Let us be part of your cherished memories and create moments of joy that will last a lifetime.
Experience the magic of Onam with Angroos – your one-stop destination for authentic Onam delights. Happy Onam!