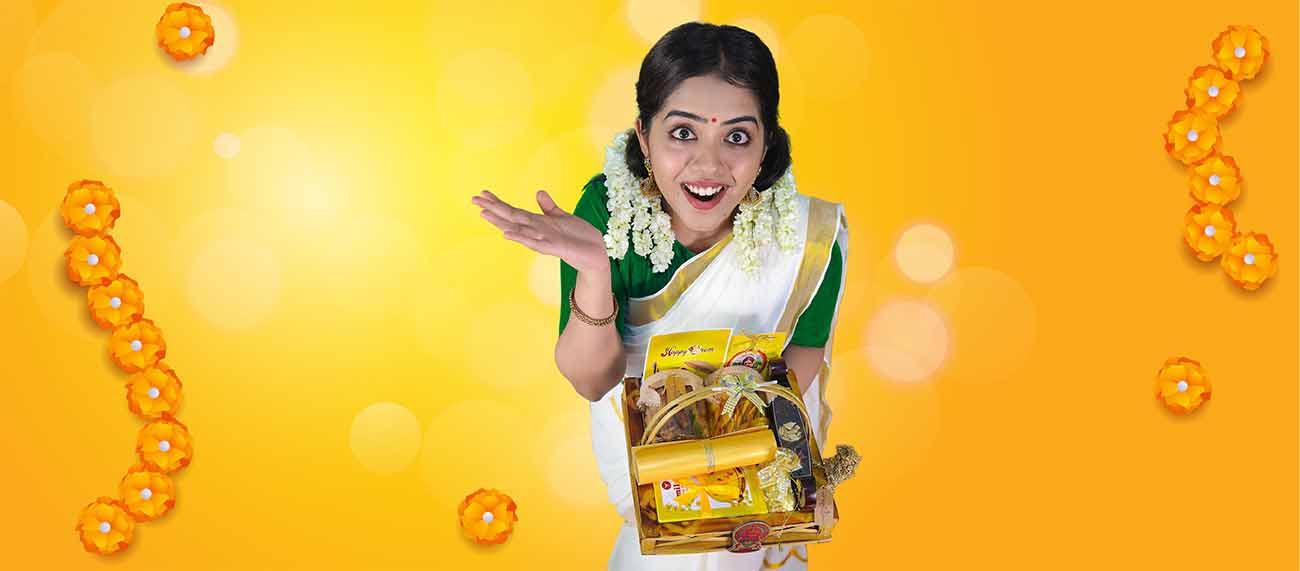 Every Malayalee has one special festival right inside their hearts and that is none other than Onam. This Onam Celebrations is the one that brings this ecstasy to our hearts. The festival celebrates the return of a mythical, brave and righteous king Mahabali. Malayalee all over the world celebrates this by gathering together, preparing a tasty sadhya and of course, gifting their loved ones with special surprises!
 We are so pleased to let you know about our newly launched Onam special gift hampers. For the most exquisite onam gift ideas, gorgeous Onakkodi and Onam sweets online, visit our Onam gift hamper section. Angroos Onam gift hampers encloses gorgeous onakkodi, beautiful kasavu dhotis, traditional banana chips and banana candies, some jewelries, customisable picture frames and photo cards, lip smacking onam sweets, payasam mix and lovely greetings. Our Onan gifts holds the true essence of Kerala and will surely impress every Malayalee. Pick up a beautiful Onam gifts online and select your preferred delivery date. We will deliver your Onam hamper on the scheduled date. We have traditionally decorated Onam gift box and other gifts for onam festival.
 You can make your own hamper online itself! Just go to our 'Build your own hamper' section and select all the gifts you wanted to add into your hamper. Voila! You are done. Now just wait for the delivery of your graceful hamper. the most heart warming and best onam gift ideas and Onam special gifts you can log on to our website now and select one. We have gifts and hampers for every one out there. We also have corporate and bulk gifting available. Why are you still here? Go pick up before someone else does!