Kerala banana chips, also known as ethakka upperi or nenthra kaya upperi, nendran banana chips are a popular snack originating from the South Indian state of Kerala. Made from thinly sliced raw plantains that are deep-fried in coconut oil, these crispy and savory chips are a staple in Kerala cuisine and are enjoyed as a snack or side dish. They are widely available across Kerala and are a must-try for any visitor to the state.
History of Kerala Banana Chips
The history of Kerala banana chips dates back to the early 1900s when the first chips were made in the city of Kozhikode, Kerala. Kozhikode was a hub for trading spices and other commodities, and it is believed that the idea of making chips from raw bananas came from the need to preserve the excess bananas during the harvest season. Initially, the chips were made at home using simple techniques like slicing the bananas thinly and frying them in coconut oil. Over time, the popularity of these chips grew, and they became a staple snack in Kerala households. Today, Kerala banana chips are widely available in the market, both in Kerala and outside.
Ingredients Used in Banana Chips
The primary ingredient is raw unripe bananas, also known as plantains, which are peeled and sliced into thin rounds.

The next ingredient is hot oil, traditionally coconut oil, until they turn crisp and golden brown

Salt is then sprinkled on the chips to add flavor 

sometimes chili powder or other spices are also added for a spicy twist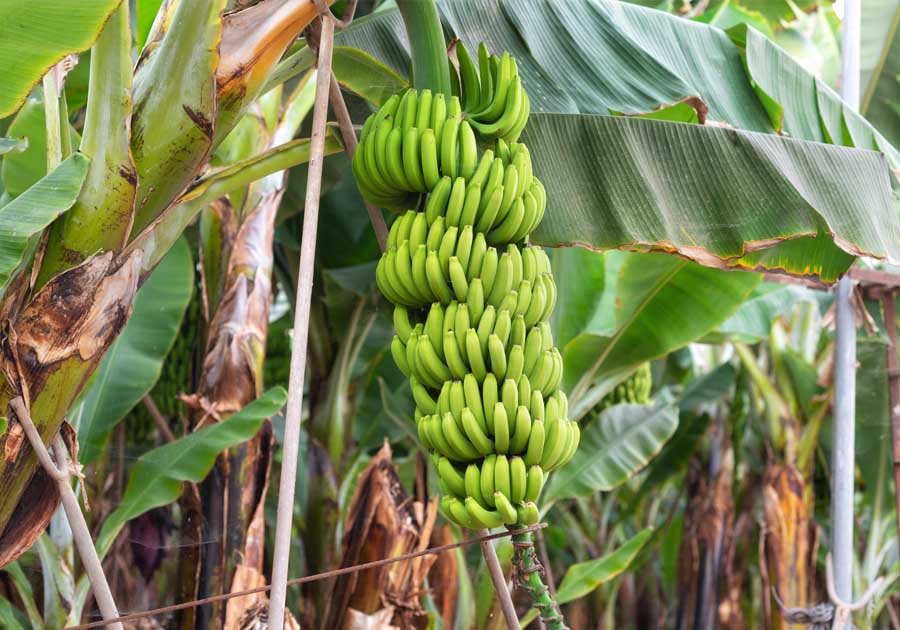 Here is a step-by-step guide on how to make Kerala Banana Chips:
Ingredients:
Raw bananas (2-3)

Coconut oil (for frying)

Salt (as per taste)
Instructions:
Choose firm and green raw bananas, which are suitable for making chips.

Peel off the skin of the bananas and slice them into thin, even slices using a mandolin slicer or a knife. The thickness should be around 1-2 mm.

Soak the banana slices in water for about 10-15 minutes. This helps in removing excess starch and makes the chips crispy.

Drain the water and pat dry the banana slices using a clean kitchen towel or paper towel.

Heat coconut oil in a frying pan or wok over medium heat. The oil should be hot enough but not smoking.

Carefully add a handful of banana slices to the hot oil, making sure not to overcrowd the pan.

Fry the banana slices until they turn golden brown and crispy. Keep stirring occasionally to ensure even frying.

Once done, remove the fried chips from the oil using a slotted spoon and drain the excess oil on a paper towel.

Sprinkle salt over the hot chips as per your taste.
Your delicious Kerala Banana Chips are now ready to be enjoyed as a snack or accompaniment to your meal. Store them in an airtight container once they cool down.
Varieties of Nenthra pazham chips
Sweet Banana Chips

Savory Banana Chips

Coconut Banana Chips
Sweet Kerala Banana Chips are a popular snack in the Indian state of Kerala. They are made from ripe, sliced bananas that are deep-fried until they are crispy and golden brown. The chips are then coated in a mixture of sugar and spices, such as cardamom or cinnamon, which gives them a sweet and aromatic flavor. Sweet Kerala Banana Chips are often served as a snack with tea or coffee, 
Savory Kerala Banana Chips are another popular snack in the Indian state of Kerala. They are made from unripe, sliced bananas that are deep-fried until they are crispy and golden brown. The chips are then seasoned with spices such as turmeric, salt, and chili powder, giving them a savory and slightly spicy flavor. Savory Kerala Banana Chips are often enjoyed as a snack on their own or paired with a dip or chutney. They can also be used as a crunchy topping for salads or as a garnish for savory dishes
Coconut Kerala Banana Chips  are a variety of banana chips that are popular in the Indian state of Kerala. They are made by deep-frying sliced bananas and then coating them with a mixture of grated coconut, sugar, and spices such as cardamom or cinnamon. The coconut adds a sweet and nutty flavor to the chips, and the spices give them a fragrant aroma. Coconut Kerala Banana Chips are often served as a snack with tea or coffee, and they are also commonly used as a garnish or topping in many traditional Indian dishes
Nutritional Value of Banana Chips
A serving of 100 grams of  chips typically contains:
Calories: 540

Fat: 34 grams

Carbohydrates: 55 grams

Fiber: 6 grams

Protein: 2 grams

Sodium: 150 milligrams
As you can see,  banana chips are high in calories and fat, mostly from the coconut oil used in frying. They are also high in carbohydrates and low in protein. While they do contain some fiber, it is not enough to make them a significant source of this nutrient.
Health Benefits of Banana Chips
While Kerala banana chips are a tasty snack, they are not particularly known for their health benefits. In fact, due to their high calorie and fat content, they are often considered a less healthy snack option.
However, bananas themselves are a nutritious fruit, and some of their nutrients may still be present in banana chips. Bananas are a good source of potassium, vitamin C, vitamin B6, and dietary fiber. Potassium is important for regulating blood pressure and supporting heart health, while vitamin C and vitamin B6 are essential for immune system function and energy metabolism. Dietary fiber is important for digestive health and can help keep you feeling full.
Unfortunately, much of the nutritional value of bananas is lost during the deep-frying process used to make Kerala banana chips. Additionally, the high-fat content of the coconut oil used in frying can negate some of the potential health benefits of banana slices.
Overall, while  banana chips are a delicious snack, they are not considered a particularly healthy choice. It's important to consume them in moderation as part of a balanced diet that includes plenty of other nutritious foods.
Best Place to Buy Kerala Banana Chips
Enjoy the Authentic Taste of Kerala with Angroos Banana Chips
If you're looking for a snack that captures the essence of Kerala's traditional festivals, Angroos has the perfect solution for you. Our banana chips are a staple of celebrations like Vishu and Onam and we're proud to offer you the most delicious and authentic Kerala-style chips on the market.  
Our banana chips are made from the finest quality raw bananas sourced from trusted farmers. We use traditional methods of slicing and frying to ensure that the chips retain their authentic taste and texture.
Sourcing the Best Bananas for the Best Chips
At Angroos, we believe that the quality of our banana chips starts with the quality of our raw materials. That's why we work closely with trusted farmers to source the finest quality bananas for our chips. Our farmers use organic and sustainable methods to grow their bananas, ensuring that they're free from harmful chemicals and pesticides.
Using Traditional Methods for Authentic Taste and Texture
Once we've sourced the best bananas, we use traditional methods to prepare our chips. Our skilled craftsmen slice the bananas by hand, ensuring that each chip is the perfect thickness for frying. We then fry the chips in small batches using high-quality oil, ensuring that they're crispy, golden, and bursting with flavor.
Our banana chips aren't just for festivals – they're the perfect snack for any occasion. Whether you're looking for a midday pick-me-up, a crunchy side dish for your lunch, or a tasty snack to share with friends and family, our chips are the perfect solution. They're also a great option for those who follow a vegetarian or vegan diet.
If you want to experience the authentic taste of Kerala, Angroos banana chips are a perfect choice. Made from the finest quality raw materials and using traditional methods, our chips are the perfect snack for any occasion. 
So why wait? Order your pack of  banana chips today and enjoy the authentic taste of Kerala!
Side Effects of Consuming Banana Chips
High in Calories: banana chips are high in calories and consuming them excessively can lead to weight gain.

High in Fat: banana chips are deep-fried in oil, which makes them high in fat. Excess fat intake can lead to high cholesterol levels, heart disease, and other health problems.

High in Sodium: banana chips are usually seasoned with salt, making them high in sodium. Excess sodium intake can lead to high blood pressure, which can cause heart disease, stroke, and kidney damage.

Acrylamide Formation: Deep-frying foods like  banana chips at high temperatures can cause the formation of acrylamide, a potentially carcinogenic substance.

Stomach Problems: Eating excessive amounts of  banana chips can cause stomach problems such as bloating, gas, and diarrhea due to their high fiber content.
Which brand banana chips is best in Kerala?
Angroos's traditional Kerala banana chips is certainly the best in the market. With no preservatives or artificial colours, our banana chips are meticulously cooked with the finest ingredients and packed in sealed pouches that makes it stay fresh.
Why Kerala banana chips are famous?
Banana chips are one of Kerala's most popular snacks. Apart from having a rich cultural significance that makes it a regular cuisine served during Onam, Vishu and other festivals, banana chips are also super delicious and healthy that can be made with a simple recipe and fewer ingredients.