why we celebrate diwali ?
Why is Diwali celebrated, and what cultural and religious significance does it hold?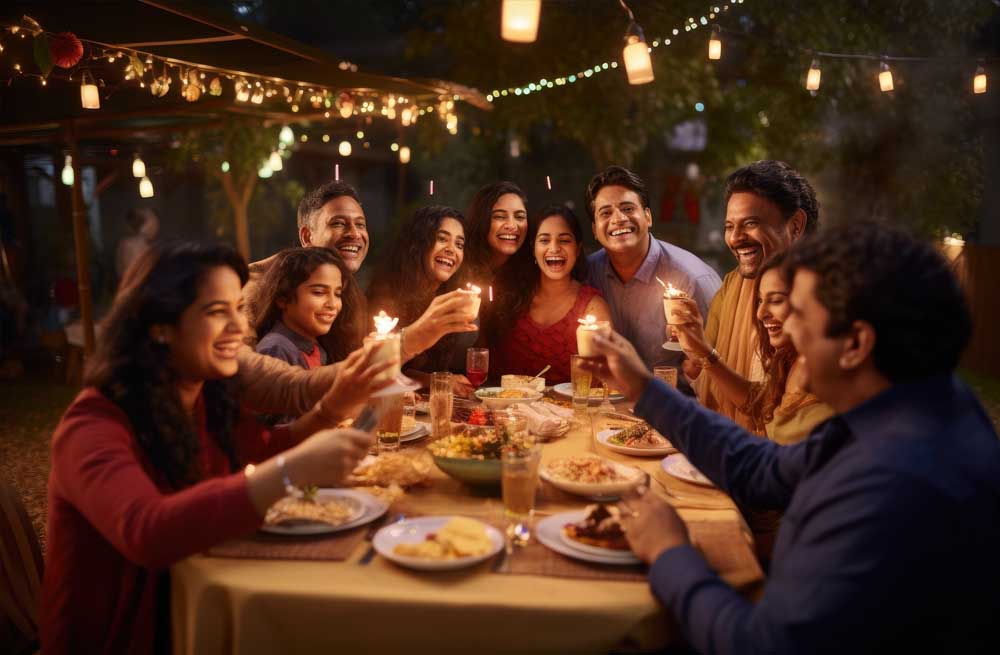 Diwali, also known as Deepavali, is one of the most widely celebrated festivals in India and among Hindu communities worldwide. The festival holds profound cultural, religious, and historical significance, marking the triumph of light over darkness, good over evil, and knowledge over ignorance.
At its core, Diwali signifies the victory of Lord Rama over the demon king Ravana, as depicted in the Hindu epic, Ramayana. Lord Rama, along with his wife Sita and loyal devotee Hanuman, vanquished Ravana and rescued Sita from captivity. The return of Lord Rama to his kingdom of Ayodhya was welcomed with joy and festivity, symbolizing the triumph of righteousness.
The lighting of lamps during Diwali is symbolic of dispelling darkness and ignorance. Homes are adorned with colorful rangoli (decorative art created on the ground with colored powders or flower petals) to invite prosperity and good fortune. The illumination of homes with oil lamps, candles, and nowadays, electric lights, is not only a visual spectacle but also a representation of the inner light that dispels spiritual darkness.
Diwali is also associated with the goddess Lakshmi, the Hindu goddess of wealth and prosperity. Devotees pray to Lakshmi seeking her blessings for a prosperous and successful life. The exchange of gifts, sweets, and the cleaning and decorating of homes are customary practices during Diwali, reflecting a desire for renewal and the welcoming of positive energies.
The celebration of Diwali extends beyond religious boundaries, with Jains, Sikhs, and some Buddhists also observing the festival for various reasons. For Jains, Diwali commemorates Lord Mahavira's attainment of nirvana, or liberation, marking the end of the cycle of birth and death. Sikhs celebrate Diwali to mark the release of Guru Hargobind Ji, the sixth Sikh Guru, from imprisonment.
In addition to its religious and mythological roots, Diwali serves as a time for family and community bonding. It is a period of joy and merriment, where people come together to share meals, exchange gifts, and participate in cultural activities. The sense of unity and harmony during Diwali reflects the overarching theme of triumph over adversity and the victory of light.
In contemporary times, Diwali has become a global celebration, embraced by diverse communities and cultures. The festival's message of hope, positivity, and the pursuit of higher values resonates with people worldwide. Beyond its religious dimensions, Diwali fosters a sense of togetherness and reminds us of the enduring power of goodness and light in the face of challenges. Overall, Diwali is a multifaceted celebration that encapsulates spiritual, cultural, and social dimensions, making it a cherished and widely celebrated festival in the Indian subcontinent and beyond.
Active

Views

180 times

Answers

1

answer