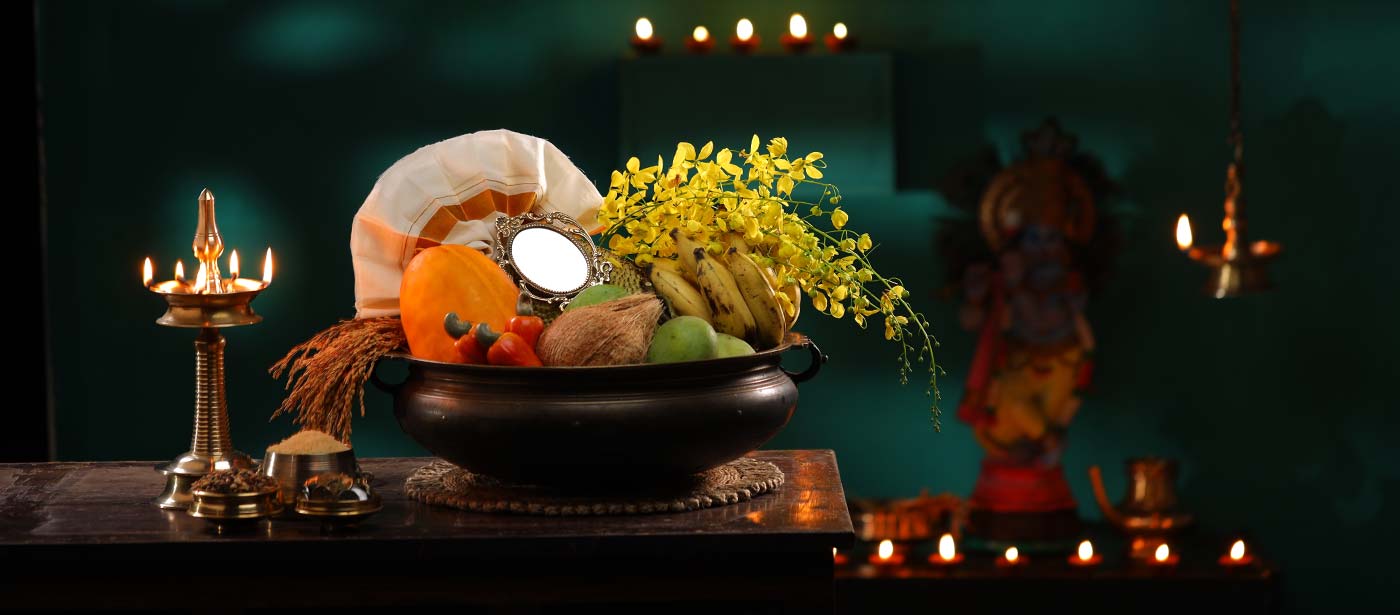 Vishu hampers have replaced the traditional Vishukani setting in every Malayali household. Here are a few details to educate you about the convenience and simplicity of pre-curated Vishu hampers and Vishukaineettam.
VISHU FESTIVAL
The festival of Vishu kicks off the Malayalam New Year, which begins with Medam, the first month of the Malayalam Calendar. The Gregorian Calendar places the date of Vishu on either April 14 or April 15. The story of Lord Krishna slaying the monster Narakasura is one that relates to Vishu. Another of the festival's mythological roots is the Surya Dev's homecoming after being exiled to the East by the demon king Ravana. Vishu is celebrated in Karnataka's Mahi and Tulu Nadu districts in addition to Kerala.
VISHU KANI
Vishu Kani is an inevitable part of the traditional Vishu celebration in Kerala, India. Every year on the first day of the Malayalee New Year, families gather to celebrate Vishu by setting up a Vishukani – an altar of auspicious items. As part of the ritual, families prepare a special Vishukani, which consists of a specially prepared Thali with fruits, five kinds of vegetables, and traditional items like coins, gold, and silver. This mix is placed in front of a deity, and everyone present is encouraged to take a moment to admire its beauty and take in its blessings. This is followed by a traditional Sadhya feast, where families enjoy a meal of delicious vegetarian dishes.
To start the Vishu celebration, every family gathers at their ancestral home, where the older members prepare "Vishukani" for the younger ones. At the first light of morning, the family's oil lamp is lit, and then the other members are gathered in front of the Vishukani while being blindfolded. It's believed that seeing the Vishukani will bring good luck for the year ahead.
The VishuKani is typically placed inside an Uruli or bell-shaped jar. The yellow petals of the Vishukonna, an endemic flowering tree that blooms during the Vishu season, are used to decorate the VishuKani. Thus, Vishukani is a vibrant exhibition of many objects that are purported to bring happiness and prosperity in life. In the Vishukani, for instance, items like jackfruit, golden cucumbers, betel leaves, areca nuts, coconuts, and rice in addition to gold jewelry, kasavu mundu, gold coins, etc, are also exhibited. Apart from these, traditionally significant things such as Aranmula Kannadi, Kanikkonna (Cassia fistula), religious texts like the Ramayana or Bhagavad Gita, Lord Krishna idols, oil lamps, etc. are also included in addition to the culinary items.
Vishukaineettam
Nowadays, people usually go with specially designed Vishu hampers that are synonymous with Vishukaineettam. A Vishukani hamper consists of everything you need to set the Vishukani; like kasavu mundu, idols of Hindu gods, oil lamps, jewelry, banana and jaggery chips, etc. What owes to the rising popularity of such Vishukani hampers are its dual advantages: giving someone the things you need for VishuKani, and exchanging Vishukaineettam with Vishu special delicacies.
A wide variety of Vishukani hampers are available now at cheap prices which has set forth the trend of readymade Vishukani settings. As it's not at all time-consuming and expensive, Vishu hampers have become Keralites' number one choice. With many online as well as local gift stores offering customization, people can easily avail of every Vishukani item they need to deliver to their doorstep.
Vishukaineettam is an important tradition where people give gifts of money or goods to their children or younger siblings. This gesture of giving is meant to represent love, gratitude, and the idea of sharing prosperity. Vishu Kani and Vishukaineettam are essential parts of the Vishu celebration and provide a powerful reminder of the importance of helping each other.