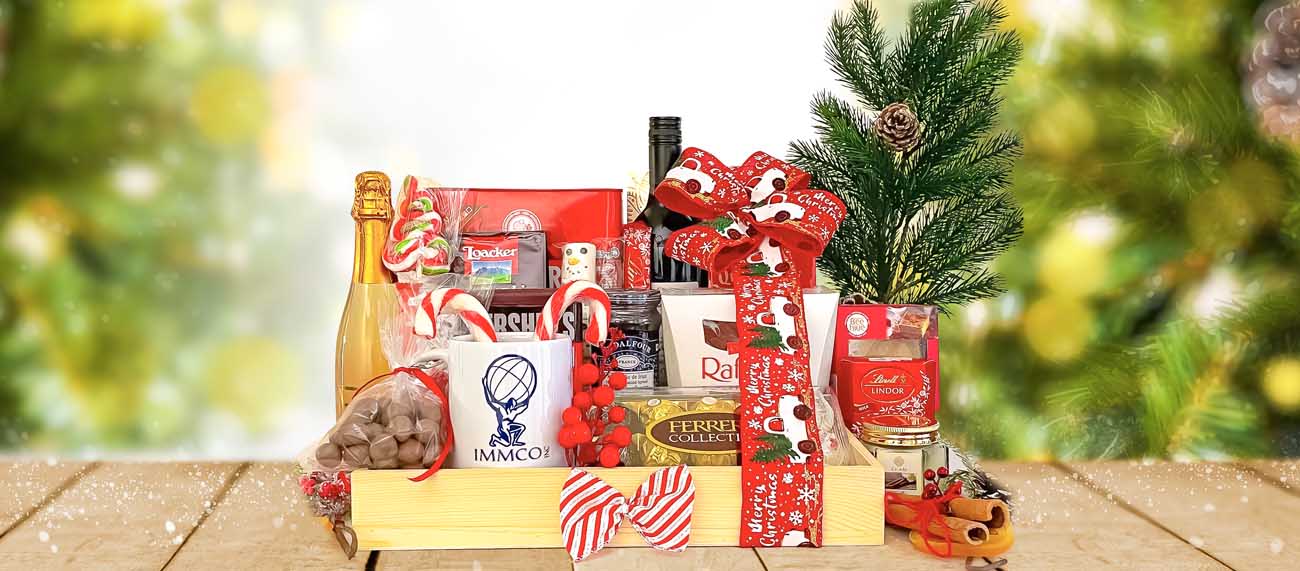 Angroos present to you a variety of thoughtful, premium Christmas hampers and baskets to delightfully indulge in premium chocolates, mellow wine, and other special delicacies
The blessed gifting season of Christmas is here. A tradition that is as old as time, giving gifts is an inevitable part of Christmas eve like Christmas Carols, cakes, family get-togethers, etc. If you're a hardcore gift giver, it can be overwhelming at times to choose the best gift according to your recipient's taste. We at Angroos uphold the promise of delivering premium christmas hampers and baskets that could make your friends and family jump high with excitement. Because we've prepared distinguishing Christmas hampers for corporate uses, for friends and family, employees, clients, and more.
The most special items in our premium Christmas hamper include a wide collection of world-renowned exclusive chocolates like Ferraro Rocher, Lindt Lindor, all kinds of luxurious wine, delicious chocolate cookies, cakes, and other delicacies. We also provide you with various decor pieces and accessories like printed ceramic mugs, potted plants, etc. To add simple grandeur, you can also demand custom-made greeting cards with personal, heartfelt wishes.
Our Christmas products range from simple and basic to extravagant and premium hampers, each meticulously planned to meet your budget plans and personal requirements. From chocolates to wine, our featured hampers are suitable for any age group. In other words, our Christmas hampers are specifically curated to your recipient's taste, be it a close friend, a family member, or your colleague.
Do not get more excited and make your poor heart beat faster because we also offer you worldwide shipping so that you can surprise your relatives abroad with this premium gift hampers to pamper them. You can now order in bulk to celebrate Christmas at your office with your colleagues and employees. In a limited time, avail yourself of the extraordinary chance of getting these premium Christmas hampers that are not only cost-effective but also well-designed to meet your quality expectations. Happy Christmas shopping from Angroos!
What gift hampers are given during Christmas?
Absolutely clueless about what gift to give someone on Christmas eve? Don't worry! With smart thinking and careful planning, you can choose the most thrilling gifts to make someone's Christmas season more special. Christmas hampers and baskets are considered perfect gifts because they contain all kinds of chocolate cuisines, wine, coffee mugs and decorative pieces that make it wholesome and special. Start gifting the best hampers for the best Christmas feeling!
What is the best gift hamper to give in Christmas?
Merry Christmas in advance! The practice of giving the best gifts during Christmas tide is an important gesture to celebrate new beginnings and hopes. The best Christmas gifts include premium chocolates, sparkling wine, flavourful cakes, coffee mugs, scented candles and home decor pieces. Such gifts promise a celebration of love and admiration on joyous occasions. Afterall what is Christmas without the best gifts?